Biopelle's Tensage Intensive Ampoules brings skin back to its former health!
There is no question that great looking skin plays a big role in our overall appearance and beauty. When you wake up in the morning and are greeted by a fresh, glowing face in the mirror, it can set you in a positive mood for the rest of the day. Not to mention, knowing that your skin looks great and you don't have to worry about covering up any pesky wrinkles or skin spots can be a huge confidence booster. Unfortunately, bad skin can do just the exact opposite.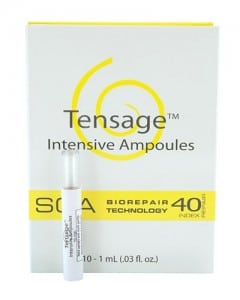 We've all had those mornings before―You wake up late for work, are rushing to get ready for your huge presentation that afternoon, go to throw on a quick bit of makeup and WOAH! Where did those bags under your eyes come from? Have your wrinkles always been that prominent? Why does your skin look so aged?
Unfortunately, aging skin is a natural part of life. While you may have had glowing, plump skin as a young adult, as you begin to get older, you will start to notice that your skin doesn't bounce back quite as well as it used to.
While a big part of skin aging has to do with our genes, there are also several factors that may speed up the development of age lines and wrinkles.
What Causes Aging Skin?
There are many different habits and lifestyle choices that can cause our skin to age more quickly than normal. However, if you start avoiding some of these triggers early, you can improve the condition of aging, damaged skin:
Cigarette Smoke: Whether you have been an avid smoker for years, or you've never even picked up a cigarette before, simply being around cigarette smoke is damaging and aging to your skin. Not only can it significantly increase facial wrinkles and dryness, but it can also deplete your body of Vitamin C―a key ingredient that keeps skin moist and glowing.
Sun Exposure: It's no secret that the sun is your skin's worst enemy. Not only can excessive UV exposure lead to an increased risk of skin cancer, but it can also result in skin that looks leathery, dry and sagging. It can also increase the development of skin spots and wrinkles if proper precautions (frequent sunscreen applications) are not taken.
Lack of Sleep: One of the first places that you will spot signs of lack of sleep is in the face. One of the best ways to avoid dark circles, bags under the eyes and sagging skin is to get a good night's rest with at least 8-9 hours of sleep each night.
How Can You Reverse Aging Skin?
While it is much easier to prevent damaged skin than it is to reverse it, there are several products on the market that can help decrease symptoms of aging. One particular product, Tensage Intensive Ampoules by Biopelle, is one of best products on the market for diminishing fine lines and deep wrinkles often brought on by the aging process.
The Tensage formula works by helping to incite collagen restoration within your skin, while active ingredients (hyaluronic acid and elastin) dramatically improve your skin's tone and texture. It also utilizes SCA Technology (which stands for Secretions of Cryptomphalus Aspersa) to regenerate tissue that is lost during the aging process and prevent further breakdowns from happening in the future. When Tensage Intensive Ampoules is used daily, a noticeable improvement to the skin can be seen in as little as seven days.
While many of the external causes of aging skin are determined by the health and lifestyle decisions that you make, there are several things that you can do to restore you skin back to its once-glowing look. If you are interested in trying out Tensage Intensive Ampoules, be sure to schedule a consultation with a health and wellness professional today in order to get all of the information that you need about this treatment. Before you know it, your wrinkles and age lines will be long gone and your skin will look fresh and as good as new.