Dermaplaning in Houston, TX
Affected Areas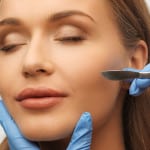 Have you been searching the web for a dermaplaning facial treatment near me? Dermaplaning is ideal for all patients of all skin types. It can be done on any area of the face or body but is most commonly performed on the face to gently lift away dead skin cells, removed fine hairs, and leave your skin youthful and glowing. It is recommended prior to many laser procedures such as Genesis, IPL, and Pearl to enhance results. It is an excellent choice for maintenance treatment to sustain healthy cellular turnover and restore skin health.
How Dermaplaning Works
Prior to the dermaplaning treatment, the skin is thoroughly cleansed and acetone is used if necessary to remove any excess oil. The treatment is performed using a surgical blade that works quickly to lift away dead skin and peach fuzz to reveal a healthy glowing complexion that lasts for weeks.
Recovery
There is no downtime and results can be noticed after just 1 treatment.
The Process
Initial Consultation

Procedure: 30 minutes per session

Sessions Required for Optimal Results: 1-6 with monthly maintenance thereafter
Recovery Time: None
FAQs
Does Dermaplaning hurt?
Not at all. It is similar to the feeling of shaving, and some patients even say it is relaxing!
Can I get cut?
It is possible that you may experience a nick. However, our staff is highly trained and experienced, and replace the blades frequently to ensure smooth exfoliating and minimize nicks. We cannot guarantee the same results if you go to a spa or salon, though.
Can men benefit from Dermaplaning?
Yes, however, due to the nature of a man's coarse facial hair, it can only be performed on areas that do not have facial hair such as the upper cheeks, around the eyes, and the forehead.
How often can I have this done?
You can have dermaplaning done as often as every two weeks.
Can dermaplaning be done on all skin types?
Dermaplaning is acceptable for most, however, those with thin, weak, delicate skin or those with open sores can not have dermaplaning done.
FREE Consultations
For more personalized information about Dermaplaning Skin Treatment, please request your FREE consultation, or call us at 281-609-4439.