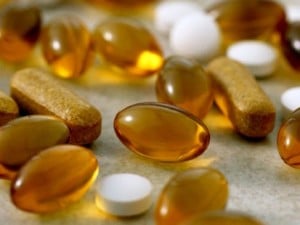 Sometimes, choosing vitamins can seem like taking a shot in the dark, can't it?
I see new patients all the time that are already taking supplements, but wonder if they're really taking the proper ones for them, the right amount and even if what they're taking is doing them any good.
When choosing supplements, there are several factors to consider:
Finding the Right Supplements for You: A recommendation that I have for my patients is to utilize our Nutritional Deficiencies Testing to determine what their body is lacking.  I am then able to look at both the results as well as the patient's symptoms to customize a supplement plan that is tailored to their body's needs.  We work with Spectracell Laboratories to analyze any micronutrient deficiencies and also determine why those deficiencies may exist.
Quality: Unfortunately, all vitamins and supplements that are available are not created equal.  Many have fillers and other ingredients that greatly hinder your absorption of what you're taking.  This is why I offer medical grade supplements of the highest quality in my practice.
Absorption: You may be taking good quality supplements that are the right ones for you personally, but for various reasons, your body may not be absorbing what you're taking properly.  We need to determine how much of your supplements your body is actually receiving and adjust your dosage as needed to achieve optimal wellness.
"50% of people taking multivitamins are still nutritionally deficient." -William Shive, University of Texas at Austin
If your body is deficient in key vitamins, minerals and antioxidants, studies have shown that our immune systems won't be able to function at the level it should.  Our overall health is effected by this and our body is more susceptible to sickness and disease such as cancer, arthritis, diabetes and heart disease, as well as many others.
Learn more about our Nutritional Testing Program. Also, you can further educate yourself on the testing process by visiting the Spectracell Laboratories website.