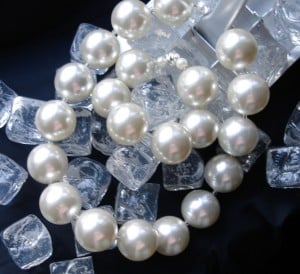 "I read this article in The Huffington Post recently and thought it was too cute not to share. I think that Connie Sherman's story is inspiring-she came up with a creative solution to an all too common problem and is now helping thousands of people.
Please know that if you are experiencing hot flashes or any of the other inconveniences of menopause, you don't have to suffer. While 'Hot Girls Pearls' are a great instant solution, bringing your hormones into proper balance with natural hormone supplementation can alleviate the symptoms of menopause and help you feel your absolute best."
-Dr. Shel
By Lori Weiss
While others huddled inside their Manhattan high rises, Connie Sherman was in heaven as she walked her poodle, Pogo, on the snow-covered streets of the city.
"We'd had 36 hours of snow," Connie recalled, "and I think those were the happiest 36 hours of my life. I took Pogo out for a walk every 10 minutes. He was miserable, but I was thrilled."
But then the unthinkable happened. Or for Connie — the unbearable.
"The temperature went up to almost 70 degrees over night! I had to come home and put my head in the freezer. I literally put my entire head in the freezer for three minutes, just to cool down."
It wasn't that she couldn't appreciate a pretty day in the midst of a very cold winter, it's just that Connie was already warm — really warm. She was plagued by hot flashes, which began when menopause set in at the age of 47, and continued to linger for more than a decade.
Suddenly, this woman whose daily life as a set decorator allowed her to stay in the background — was in the hot seat — and the center of attention.
"It disrupted everything I did in life," Connie said. "I remember being in a meeting with ten men. And as I was presenting my ideas, perspiration was dripping from my face down to my arms. I could have done that presentation standing on my head, but they all thought I was nervous and I instantly lost all my power."
The flashy designer tried everything she could think of to cool herself down. She traded in her cashmere sweaters for cotton tunics. She carried paper fans and bottled water in her purse. She even tried wearing wet bandanas.
"The bandanas definitely didn't help," she said rolling her eyes. "They just made me look like a crazy cowgirl — a sweaty, crazy cowgirl."
Connie was desperate for a solution — until one day, as she had her head in the freezer, she opened her eyes and saw the answer right in front of her. She thought if she could only find a way to wear a necklace of ice cubes around her neck, she'd not only conquer menopause, she'd make millions.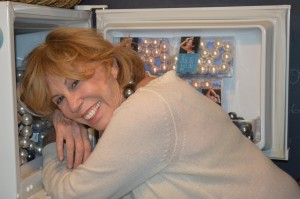 "I went to the store and bought a bag of those colorful plastic ice cubes — the kind that don't melt in your drink. They're filled with water and you just stick them in the freezer and they stay cold for hours. I taped them to a string and wrapped them around my neck and I knew, at that moment, I was on to something."
But before she took her idea any further, Connie did her market research — with a focus group of one. She braved the sunny weather and took Pogo to the streets to see just how long her ice cube necklace could keep her cool.
"They kept the chill for about 45 minutes. And I knew if I could find a way to make an attractive necklace that worked in the same way, there were lots of women who would want one. I couldn't be the only one schvitzing her way through menopause."
So she turned to the internet, and tracked down the manufacturer of those magic cubes. Together they created prototypes in different shapes and sizes and quickly realized that Connie's gem of an idea worked best in the shape of a pearl — a very large pearl.
"We realized that the less of the surface that touched the warmth of the skin, the longer it would hold the cold. There's no flat surface on a pearl, so only a tiny part touches your body — and the larger the pearls are, the longer the cold lasts."
They filled the 28 millimeter pearls with a cooling gel which, when placed in the freezer, absorbs water and turns into a solid, holding their chilling effect for up to an hour. And then, they took the idea one step further — creating a carrier that a woman can keep in her purse, which acts like a portable cooler.
Appropriately, Connie named her creation Hot Girls Pearls and only two weeks from the time they rolled off the manufacturing line, the Today Show named them a "cool" accessory to help women survive the summer heat.
"All I did was send out an email," she said, still stunned. "We weren't even ready to fulfill orders yet. But twenty minutes later, I got a call asking for samples! Bobbie Thomas, Today's style editor, talked about us for 1 minute and that day alone, we sold $13,000 in pearls!"
But it wasn't just women who were dealing with menopause who were logging on to Connie's website. It was women who were undergoing chemotherapy, others who had migraines, even women who had lupus and multiple sclerosis — things she'd never considered.
"One woman sent us a picture of her little girl wrapped in Hot Girls Pearls. She had a fever that wouldn't break, so while she was asleep, her Mom put the pearls on her."
It was clear that Hot Girls Pearls wasn't going to be just a flash in the pan. Orders continued to roll in and it wasn't long before Connie was once again the center of attention, but this time it was in front of a welcoming audience at the New York International Gift Fair.
"So many people were calling me a genius," she laughed, "that I started calling myself Alberta Einstein! Someone even said she wanted to nominate me for a Nobel Peace Prize! Believe me, I'm no genius. I just had a good idea and I followed through."
And it was that follow through that brought Connie the greatest surprise of all. Just before she boarded a ship for an annual family vacation, she thought she'd drop off a few more samples. She took a crosstown bus to the West side of Manhattan and left a few bags with an attendant at ABC studios, hoping her pearls might end up in the hands — or on the necks — of the hosts of "The View." As she sailed off into the high seas, she had absolutely no idea what was happening in Manhattan.
"We docked in St. Maarten and met some friends who were vacationing there for lunch. I thought it would be nice to bring along some pearls — and just as I handed them to my friend a woman turned around and said, 'Are those Hot Girls Pearls? Whoopi Goldberg was just talking about them a half an hour ago on The View.'"
"All I could think was 'I have to get off that boat and get home!' I was terrified that my assistant, Charlotte, would be alone in the office and be overwhelmed the way we were when the pearls were on The Today Show. But maritime laws don't let you leave a ship unless you're sick. So there I was, out in the middle of nowhere. I must have run up a thousand dollars in emails, just trying to stay in touch."
While Connie did her best to keep her cool, her website was burning up. Women all over the world were signing on and by the time she got back, there were $52,000 in orders.
Today, just a year and a half from the time Connie first found her inspiration, her business is approaching the half-million dollar mark. Her brilliant spin on a classic look has landed her in more than 120 stores, on Amazon.com, and at spas and country clubs around the world. Bed Bath and Beyond will be launching Hot Girls Pearls on their bridal registry and the Australian post office is including them in their catalog that goes out to residents around the country.
"I'm the first to tell you," she said candidly, "I've had a lot of dumb luck along the way, but I acted on it. I sure as hell wish I'd come up with this idea 30 years ago, but when a great idea hits you, it hits you. The passion you have for something supersedes your age. The important thing is I made it happen."