from our friends at Obagi.com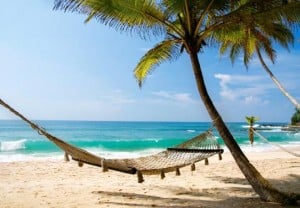 With summer vacation just starting and the Fourth of July quickly approaching, you may be planning trips to the beach, lazy days in the backyard hammock, and neighborhood barbecues that last well into the evening—so you're going to need plenty of ways to protect yourself from the ultraviolet rays (UV) and heat of the sun!
If you're concerned about sun damage such as wrinkles or brown spots—kick-start your sun protection regimen by following these simple tips for healthier, radiant-looking skin all season long!
Stay covered
When venturing outside for a mimosa on the patio or to cheer on the Fourth of July parade procession, it's important to wear appropriate clothing to protect yourself from the harmful effects of the sun. A basic tank top has a sun protection factor (SPF) rating of less than 15, so wearing longer attire, like a chic tunic or maxidress, is preferable. While lighter-colored clothing will deflect some of the sun's rays to keep you cooler, darker apparel offers greater UV protection. Or, if you're feeling fun and flirty, go the celebrity route and don a pair of oversized sunglasses—good for sun protection and hiding from the paparazzi!
Our Favorite, Sunscreen
While your wardrobe will offer some assistance, you should also use an ample amount of sunscreen to cover your beautiful skin—especially when sunbathing or swimming. Sunscreen is one of the keys to radiant, youthful-looking skin. It is recommended that you apply a broad- spectrum sunscreen with an SPF of 15 or higher over your entire body, remembering to cover all exposed skin—even your ears! Additionally, make sure to apply 30 minutes before heading outside, and reapply at least every 2 hours or right after activities that involve water.
Stay hydrated
In the height of summer, exposure to sun, chlorine, and salt water can dry out your skin, so it's more vital than ever to drink plenty of water in order to avoid losing your signature cool. Not only will this quench your thirst, but staying well hydrated will keep your energy levels up to prevent heat exhaustion as you spend an afternoon shopping down the boardwalk or catching up with friends at brunch. Try to keep a bottle of fresh water with you whenever possible, and avoid too many drinks like beer or soda that will zap your hydration. For a refreshing spin on a summertime favorite, drop a slice of fresh lemon in your glass of ice water—a healthier alternative to sugary lemonade.