Ultherapy is the only FDA approved procedure to non-surgically lift your neck, eyebrows and chin and visibly improve the appearance of lines and wrinkles on your décolletage. ULTHERAPY, sometimes called the "Non-Invasive Lift," can help you achieve a fresher, more youthful look from your brow to your chest.
How Does it Work?
Using the power of ultrasound, Ultherapy treats the deep layers of your skin without disturbing the surface. Ultrasound has been used safely throughout the medical field for more than 50 years and Ultherapy has been found to be safe and effective in clinical studies in more than 350,000 cosmetic procedures worldwide. The use of ultrasound enables us to see the layers of your skin, ensuring that the energy is delivered to where it will have the biggest impact.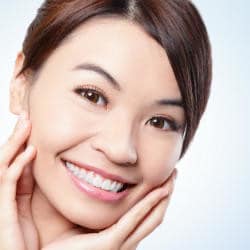 Ultherapy uses the same imaging and therapeutic principles of ultrasound, but in a unique way, to firm, tone and lift the skin. A Ultherapy treatment heats small, targeted amounts of soft tissue below the surface of your skin to a point where the tissue contracts and your body begins to create new collagen. To achieve a significant lifting effect, the right amount of heat must be delivered to the right depths of your skin. Ultherapy is capable of accomplishing both, without injuring your skin's surface.
What does it feel like?
What you feel during treatment are tiny amounts of concentrated ultrasound energy being deposited below the surface of your skin. The heat may be fleetingly intense at times and is a positive sign that collagen building has begun.
Any discomfort will vary from patient to patient and from area to area, with bony areas being more sensitive. There may be temporary areas of numbness or sensitivity to touch following treatment, but results in no downtime. Most patients find that any discomfort during the treatment is minimal and is well worth the results!
If you would like to learn more, call for a free consultation at (281) 698-7435. You can also submit a consultation request form and we will call you back to schedule your appointment.