We are pleased to offer Pearl Laser Skin Rejuvenation Treatment to our patients! Our staff member, Bridgette, had this treatment done recently and was very pleased with the results.  Here, she shares with us her experience:
"Before the Pearl treatment, my skin was beginning to show signs of age and sun damage.  I had spent a lot of time in the sun when I was younger and the effects were manifesting-fine lines, hyperpigmentation and poor skin texture.  Dr. Shel recommended the Pearl Laser Treatment to address my skin issues."
Day of Treatment, with numbing gel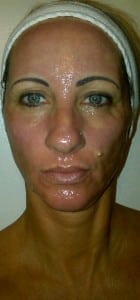 "The procedure was simple and quick.  My face was numbed, so I didn't feel any discomfort.  Light was pulsed over my face for approximately 30 minutes.  I had the procedure done on a Friday so that my skin could recover over the weekend-72 hours of social downtime is normal for this treatment.  Within a few days, the treated areas of skin began to slough off and the new layer of skin began to appear. After the recovery period, my skin felt and looked completely different-like brand new baby skin.  I was so pleased and would definitely recommend this procedure.  I plan on having one more treatment done to complete the process and achieve the results that I'm hoping for."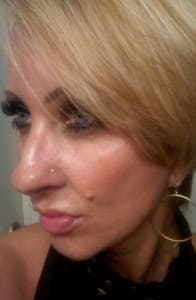 2 Weeks Post Treatment
'The Doctors' featured this treatment on their program and showed an interesting demonstration as well.  You can view it by clicking here.
For more information on Pearl and to schedule a consultation, please click here.
Also, for some amazing 'Before and After' pictures, visit the Cutera website by clicking here.