If you have started to notice lost volume in your face or hands you are not alone. One of the most common first signs of aging is in fact not wrinkles or even gray hair – but more commonly lost facial volume. Hollowed cheeks and under eye areas are what help lead to wrinkles, jowls and bags under the eyes.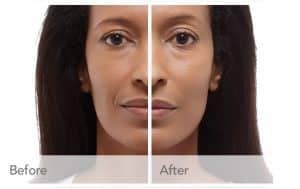 To combat these early signs of aging, Dr. Shel is proud to offer Radiesse Volumizing Filler. Radiesse is a non-surgical, injectable product that can immediately restore lost facial volume. Once plumped and supple your wrinkles will begin to smooth out and lines will become more and more faint. Radiesse also helps stimulate the growth of your skin's own natural collagen supplies, meaning that over time, even weeks after treatment, you'll continue to see improvement.
Radiesse can be used to treat the face and neck and is mixed with lidocaine meaning there is very little discomfort or pain from injections. The best news is that Radiesse treatment lasts for several months, often even up to a year!
Request a Free Consultation today to see if this procedure is right for you!