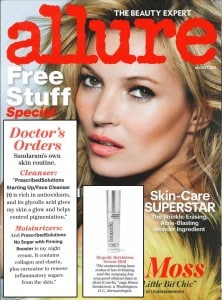 Have you seen the latest issue of Allure magazine with Kate Moss on the cover? One of our favorite products was recommended by a fellow doctor – Biopelle Retriderm Serum Max.  Do you use any type of Retinol product? Most people can benefit from using Retriderm on a regular basis-here's why:
This product can be used daily to help encourage cell turnover, rejuvenating aging skin and helping to slough away sun damage.  It contains 1% Retinol-a strength that is very effective at:
Reducing fine lines and firming the skin
Helping restore radiance
Evening out discoloration by speeding cell turnover
Smoothing texture and shrinking pores
Many people are familiar with Retinol Creams, like Tretinoin, which can be a wonderful treatment.  But sometimes people's skin can get a bit too irritated using a retinol cream, and the Retriderm is a great alternative for those people.  It comes in a moisturizing serum formula that you apply after cleansing and toning.  Once the serum has had a couple of minutes to absorb, you would then apply your moisturizer.  It's very simple to incorporate into your daily regimen but produces a fantastic result.
Wonder if it's right for your skin? Schedule a time to meet with one of our skin care experts to receive personalized recommendations to help your skin look it's absolute best.