Today I'd like to speak to you about something that concerns over 68% of people in this country, and that is submental fat, or better known as a double chin. 
A lot of people are concerned with that. And up until recently, the only option was surgery or other such invasive procedures. Fortunately, there has been an amazing new technology that just came out by ZELTIQ, which is famous for doing CoolSculpting. 
Submental fat, more commonly known as chin or neck fat or the "double chin", is somethings that concerns many people. In fact, in a recent survey conducted by the American Society for Dermatologic Surgery (ASDS), 68% of participants said they were concerned with their chin and neck fat. Additionally, a recent study conducted in the United States revealed that 22.4 million people are interested in seeking non-invasive fat reduction solutions.
Until recently the only options were surgeries, injections, and other invasive procedure…until now! ZELTIQ, the maker of CoolSculpting, has recently secured FDA approval for the treatment of submental fat with their new CoolSculpting applicator, the CoolMini™!
How Does it Work?
This applicator uses the same proven technology of Cryolipolysis to freeze the fat cells under the chin. The origins of this technology are rooted in something that many of us remember enjoying from our childhood…popsicles! Two Harvard scientists observed that children got dimples after they ate popsicles. They made the assumption that the dimples were being caused by the fat cells responding to the cold temperatures…and it was true, the fat cells were dying!
CoolSculpting uses controlled cooling (Cryolipolysis) to target and kill fat cells. By precisely targeting those fat cells with a specific temperature, they freeze and die, while the surrounding tissue is unaffected. Then, over the next few weeks, the body eliminates those dead fat cells naturally.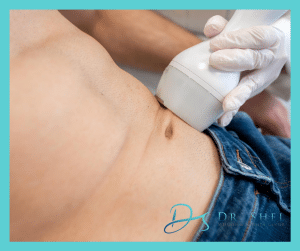 The new, CoolMini™ applicator, is designed to treat smaller pockets of fat, including the submental, or chin fat area, more commonly referred to as the double chin. CoolSculpting results improve over time as the body eliminates the dead fat cells…and those fat cells are permanently gone! The procedure results in an average of 20% fat reduction with a single with even greater results after a second treatment. There is minimal discomfort and no downtime with this procedure.
Most patients only need one to two treatments and they start seeing results within about four to 12 weeks. The best results are in about three to four months, and the results continue going as you go on.
Want More Information?
We are pleased to offer the CoolMini, and all the CoolSculpting applicators, to customize a fat reduction program to fit our patients specific needs! For more personalized information on Coolsculpting, please request your FREE consultation, or call us at (281) 698-7435.