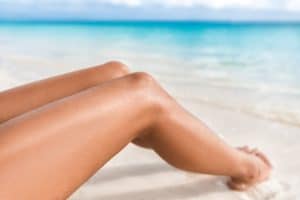 Ahhhhh summertime! It comes around so quickly yet at the same time seems to pass us by in almost an instant. Can you believe it's already mid-July?! Because we are in the dog days of summer, and we get asked this question all the time, I thought I would share a few aesthetic procedures that are safe to do during the summertime, and really, any time of the year.
Ultherapy
Unlike lasers, which treat skin on the surface level, Ultherapy uses ultrasound energy to reach deeper layers of the skin. For this reason, there is no risk of sun damage from sun exposure. This non-invasive procedure helps lift, tone and tighten the skin and is popular on the face, chin, neck and decollete. Ultherapy has no side effects and no downtime and lucky for you, can be done any time of the year! Learn all about Ultherapy and how it works here.
Injectables: Botox and Dermal Fillers
Botox and dermal fillers, such as Juvederm, Voluma and Radiesse, are safe treatments that you can receive any time of the year. There is no skin re-surfacing involved in receiving injectable treatments, which is what makes these procedures summer-friendly. I would, however, always recommend not overexposing yourself to direct sunlight for about 2 days after being injected and as always, use a medical-grade sunscreen to protect your skin any time you are in the sun. Even better, use my brand new Skin Protection supplement which is essentially sunscreen in a capsule!
CoolSculpting
Want to look your best in your swimsuit this summer? CoolSculpting is an FDA-approved treatment that freezes fat unwanted fat cells and permanently removes fat from areas that are resistant to diet and exercise. And fortunately, there are no known side effects of sun exposure affecting the results of CoolSculpting treatments, which makes it safe for the summertime. In fact, a lot of our patients have had this procedure done and then traveled right to the beach!
PRP Hair Restoration
The newest and most innovative non-invasive treatment for restoring hair growth is PRP hair restoration. PRP, short for Platelet-Rich Plasma, hair restoration involves a simple injection of your own PRP into the vascular layer of your scalp. In turn, your body uses its own growth factors to increase blood supply to the hair follicle, stimulating hair regrowth, while also increasing thickness and decreasing future hair loss. PRP hair restoration for hair loss or thinning hair is a completely safe procedure whether it's the middle of the summer or the bitter cold of winter time. Additionally, there is no downtime to PRP hair restoration treatments.
Hydrafacial
This type of skin-quenching facial is actually an excellent summertime treatment. Hydrafacials are ideal for any skin type and leave your skin feeling hydrated, refreshed and glowing. Addressing issues such as fine lines, wrinkles, sun damage and acne, hydrafacials exfoliate the skin to remove impurities while simultaneously hydrating the skin and providing potent antioxidants to promote total skin health and anti-aging.
Vanquish ME Fat Reduction
Treating larger areas of the body, such as the entire abdomen or thighs, Vanquish ME destroys resistant fat cells to help contour a beautiful waistline and natural curves to the body. This pain-free, non-invasive body contouring procedure can help you lose the inches without any downtime and is also completely safe to have done in the summertime.
However, I cannot stress the importance of protecting your skin while you're out in the sun this summer. Regardless of what procedure you have, you should always be sure to apply a medical-grade sunscreen all over and be sure to re-apply every 2-3 hours. Additionally, I recommend to always wearing a hat and sunglasses, as well as take 1-2 softgels of my new Skin Protection supplement to help shield your skin from the sun.
Have an awesome rest of the summer and stay protected!