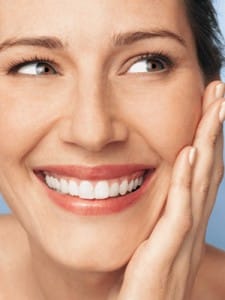 Women, and even men, are always on the hunt to find that miracle product-the skin care solution that will make them look more youthful, more radiant, their best possible self, etc.  The truth is that, though many products may have pretty packaging and a great marketing campaign behind it, the results they provide are often more subtle than we hope for.  What we are all really searching for are 'real results' and that is one reason I so often prescribe Obagi skin care products to my patients.
Skin aging is a natural process, but daily sun exposure can contribute to premature aging, slowing down the turnover of skin cells between healthy new cells and old damaged cells.
Do you show any of these signs of aging and photodamage?
Age spots
Fine lines and wrinkles
Rough skin
Skin laxity (loss of elasticity)
Redness
Sallowness (complexion)
Hyperpigmentation (discoloration)
The Nu-Derm System is an anti-aging therapy that penetrates below the skin's surface to transform skin cell functions at the cellular level and correct the damage within… revealing healthy, younger-looking skin.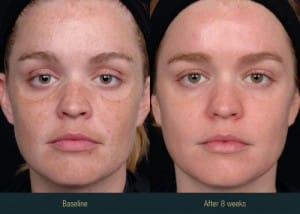 The Phases of Transformation
As you begin using the Nu-Derm System, your skin will undergo 4 phases of transformation.
Phase 1: Out With the Old (Weeks 1-6)
Promotes cellular turnover and maximizes the results of your procedure by penetrating the layers of your skin.
Old, dead skin cells are pushed to the surface and replaced with fresh cells
Itching, dryness, and redness are normal reactions as your skin adapts to the active ingredients in the system†
Pigmented skin cells begin to become regulated, creating a more even-toned appearance
Phase 2: In With the New (Weeks 7-12)
Smoother, softer, clearer skin is created.
Your skin begins producing normal, healthy cells
Pigment cells are distributing melanin more evenly
Collagen production is stimulated
Your skin begins to acclimate to the active ingredients of the system
Phase 3: Healthy Glow (Weeks 13-18)
Your skin cells are in the process of transformation.
Collagen production continues
Your skin is smooth, naturally hydrated, evenly colored, and more resilient
Your skin is becoming clearer, firmer, and tighter with improved clarity and a healthy glow
Phase 4: The New You (typically lasts indefinitely, with maintenance)
You can enjoy a complexion that's smoother, clearer, and firmer, but remember that maintenance is crucial to long-term success