What is Gluten?
Gluten is a protein composite (combination of Prolamines & Glutelins) that is added to certain grains.

Food & Gluten Sensitivities


Why The Rise of Gluten Intolerance?
Gluten is used as an additive to foods that otherwise lack nutrition
Has been recently introduced as an additive for
Texture
Elasticity
Binding & filling
Our bodies are not used to processing high quantities of gluten
Testing is much more predominant today to determine sensitivities
Gluten Intolerance Symptoms
More and more patients are complaining of common symptoms related to Gluten sensitivity
GI ISSUES
BLOATING
GAS
ABDOMINAL CRAMPS
DIARRHEA
ACID REFLUX/HEARTBURN
IRREGULAR BOWEL MOVEMENTS
SKIN ISSUES
ECZEMA
PSORIASIS
HIVES
RASHES
RESPIRATORY ISSUES
COUGHING
ASTHMA
BRONCHITIS
ACUTE SYMPTOMS OF FOOD INTOLERANCE
SNEEZING
DIARRHEA
VOMITING
ITCHING/BURNING/ SWELLING OF THE SKIN
Gluten Intolerance Is not a disease but it creates inflammation, causing diseases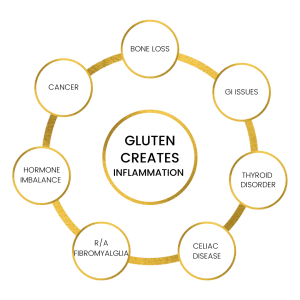 Gluten Intolerance Is not a disease but it can be associated with disease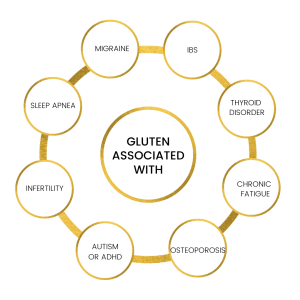 Gluten Intolerance
Countless patients are taking unnecessary RX due to misdiagnoses.
This creates:
More inflammation
An environment prone to disease
Nutritional status to become compromised
A shift in the balance of the body.
3 GROUPINGS OF GLUTEN INTOLERANCE
Celiac Disease

 — 

Autoimmune disease that typically is aggravated by gluten
Non-Celiac Gluten Sensitivity — Unable to tolerate gluten.
Wheat Allergies — Food allergy that causes complications in people who are sensitive to gluten
Common Misdiagnoses of Gluten Intolerance
Irritable Bowel Syndrome
Ulcerative Colitis
Colitis
Reflux
Crohn's Disease
Celiac Disease
Gluten VS. Celiac
Recent studies are showing the gluten sensitivity may be much more common than previously thought. It may, in fact, be a separate disease entity that involves different organs and different mechanisms than celiac disease. While there is no doubt that the condition exists, the lack of definite criteria for a diagnosis has resulted in a skeptical attitude on the part of many doctors." He continues: "The acceptance of gluten sensitivity as a valid condition has evolved.
*source : Dr. Peter Green – Director of The Celiac Disease Center at Columbia University
60-70% of those who believe they have celiac disease are actually gluten sensitive – they do not have celiac disease.*
*source : *Dr. Alessio Fasano –University of Maryland Celiac Research Center
Gluten sensitivity is still present in the absence of Celiac Disease (when tests may be negative) according to a double blind randomized placebo study published in the American Journal of Gastroenterology. *
*source : Am J Gastroenterol, Jan 11, 2011
Celiac Disease is most commonly suspected instead of gluten sensitivity.
Celiac & gluten sensitivity are NOT the same but often symptoms mimic each other
Celiac is a disease… gluten sensitivity causes disease. Only way to determine is testing
Gluten Testing Options
HLA-DQ
Most accurate available — Buccal Swab
Still being perfected
Tests for positive genes for gluten sensitivity and Celia Disease
Blood Testing
Stool Testing
Fairly accurate
Limited to gliadin
Stool Biopsy
Only tests for Celiac Disease, not gluten intolerance
Appropriate Gluten — Free Diet
Healthy Eating Program
Balanced diet with a customized meal plan
Eat 5-6 times per day
Eliminate foods containing gluten
Medical grade supplements & enzymes
Hidden Sources of Gluten
Cereal
Candy
Cold cuts
Canned soups
Chocolate
Sour cream
Dry roasted nuts
Frozen products
Toothpaste
Envelope seal
Stamp glue
Lip balm
Lipstick
AVOID: Processed foods, Malt, Wheat, Gluten, Rye, Oats, Barley
Combining Diet & Enzymes
Diet alone isn't always the whole answer
Diet removes items from the body, but doesn't heal the gut
Enzymes help to heal the gut
Enzymes reduce inflammation in the gut
CELLULAR NUTRITIONAL SUPPORT & DIGESTIVE ENZYMES
Role of Supplements & Enzymes
Gluten intolerance can cause poor absorption of nutrients
Test with an Intracellular panel to determine deficiencies
Replace with healthy balanced diet & medical grade supplements
Benefits of supplementing with digestive enzymes

Healthy & optimally functioning digestive system

Greater bio-availability of nutrients to boost immunity

Enhanced removal of harmful toxins

Replace Probiotics
Replace Protease
Replace Digestive Enzymes
Polysaccharides (in case some Gluten gets in)