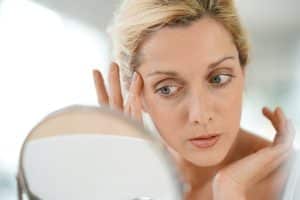 Everywhere you look, everyone you see is most likely getting ready to go back to school around this time of the year. Whether you're a student, parent, teacher, grandparent, or even an empty nester, these next few weeks will be busy as the communities start to prepare for a brand new school year.
The kids go back to school dressed to the nines, feeling like a million bucks in their new clothes and shoes. They're decked out with new backpacks and school accessories. And they're most likely sporting a new hairstyle, too. You're doing everything you can to make sure they look their best and feel confident for their first week back. A new school year for you means a full calendar, meeting lots of new teachers and friends, and possibly some homework, too. While we focus all of our energy on our children, and rightfully so, it's important that you also take a little time to focus on yourself, too. It's time to get back-to-school beautiful!
My team and I have come up with a few fun ways you can naturally 'erase the years' with simple, non-invasive aesthetic procedures and balancing wellness treatments to help you feel confident about yourself, too.
A is for…Acne Treatments. Acne is a common concern in both teenagers and adults alike and affects both teens and adults the same way. Leaving big, red pustules on your face for everyone to see is embarrassing, frustrating and can make you feel less confident about your appearance. While there are many different causes of acne, no matter your age, there are solutions that do not require the use of antibiotics, which can destroy your total gut health, which in turn, affects your overall health dramatically. Blu U is a blue light therapy that penetrates the skin and kills acne bacteria. This amazing treatment is great for those with mild to moderate acne and can leave your skin looking and feeling incredible. The Acne Kit is another great option, especially for teens, as it is a system that helps to kill bacteria, fight acne breakouts and promotes a smoother complexion.
B is for Botox. With a busy social life, work meetings and a hectic schedule, you're probably noticing a few more fine lines and wrinkles than you prefer. Botox is a simple and non-surgical treatment that reduces the appearance of frown lines, forehead creases, crow's feet and even thick bands in the neck. I believe in using very conservative amounts of Botox to relax the facial muscles so that your face opens up naturally and allows for your true confidence to shine.
C is for Cellulite Reduction. Are you self-conscious about the lumps and bumps caused by cellulite deposits on your legs? Do you find yourself trying to cover up your thighs, arms and abdomen? Cellutone uses the power of targeted vibrations to help eliminate the main factors that cause cellulite formation. This non-invasive treatment leads to a considerable improvement in the skin's appearance and texture so that you can feel confident at all times.
D is for Droopy Neck. Are you seeing double…chins? Let's face it…as you age, so does the skin around your chin and neck, giving us the appearance of a double chin. Even thin people experience this, especially after a fair amount of weight loss. The CoolMini is a non-invasive technology that was created to target smaller areas, including fat under the chin, to help eliminate your double chin once and for all.
E is for Energy. Who doesn't need more energy?! One of the best ways to achieve optimal energy levels is by receiving your vitamins and minerals intravenously. I'm referring to vitamin IV therapy, which is an innovative form of receiving your nutrients via IV, rather than taking them orally. In doing so, the nutrients bypass the digestive system, and are absorbed directly into the bloodstream where they are used to their maximum potential. The Myer's Cocktail IV contains a variety of the most crucial nutrients you need for optimal wellness and of course, energy. This form of IV contains loads of B vitamins, vitamin C, and magnesium, all which contribute to energy levels in the body. Another popular vitamin IV is the vitamin C IV. This IV is chock-full of this potent antioxidant which not only protects the cells from cancer and disease, but also supports your body's immune system and adrenal glands to see that you avoid becoming run down and crashing.
F is for Feminine Rejuvenation. Ladies, I cannot express the importance in making sure your most private area is beautiful and healthy from the inside out. What if you could improve your appearance in such a way that you have the most passion, the most enjoyment and the most satisfaction you've ever experienced? It doesn't matter what your age is. You don't have to feel that a decrease in sexual desire is 'normal' because it absolutely does not have to be! Feminine Rejuvenation includes many different aspects, from improving both the appearance and function of the vagina, as well as helping with concerns such as stress urinary incontinence, vaginal laxity, vaginal dryness, sexual satisfaction and so much more.
G is for Gut Health. It is well researched that the health of your entire body lies within the health of your gut. We also refer to the gut as the body's second brain. Both of these statements could not be more true. If you have an unhealthy gut, chances are you have poor digestion and poor immunity…two major components to leading a happy, healthy life. If you've been feeling bloated or gassy, experience heartburn or indigestion, feel sluggish or have other stomach issues, it's time to deep clean your gut and one of the best ways to do this is by following a safe and effective nutritional detoxification. The 14-Day Detox Kit was designed specifically to help guide you through the detoxification process so that you can rid your body of harmful toxins, 'flush' the junk from your system and give your body the reset it's craving. I've had hundreds of patients do the 14-Day Detox with incredible, life-changing results. I, myself, do the 14-Day Detox three to four times a year every year and love it! It's simple, it's quick and most of all…it works! Learn more about the 14-Day Detox Kit here.
H is for Hair Restoration. Hair loss is known to be one of the most frustrating and embarrassing health concerns that men and women face in their lifetime. If you suffer from hair loss, you know how it not only affects your physical appearance, but it affects you emotionally as well. Personally experiencing hair loss (significant hair loss!) after the birth of my son, I understand just how frustrating and stressful it can be. I had days where I didn't even want to leave my own home! With the latest and most innovative hair restoration treatment, PRP Hair Restoration, you can restore natural hair growth without painful and expensive surgical procedures or prescription drugs and side effects. PRP Hair Restoration uses your own growth factors to stimulate hair re-growth and we are seeing dramatic differences in our patients' hair. Spots that were once bald are now growing back and thinning areas are now getting much more volume. It truly is incredible! If you're at your wits end with hair loss and are looking for a natural solution, PRP Hair Restoration could be your solution. Learn about about PRP Hair Restoration here. [Link: https://drshel.com/services/aesthetic-services/hair-regrowth/prp-hair-restoration/]
You've taken care of everyone else all this time. Now's the time to treat yourself! Learn more about special promotions on each of these non-invasive procedures here!