Acne is an extremely common skin condition that affects millions of Americans including men and women of all ages. For those patients who do not suffer from active acne – scarring from previous outbreaks may still wreck havoc on the skin.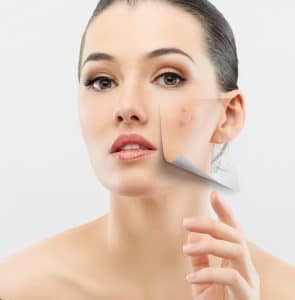 When it comes to acne, there can be several different causes including excess oil production, bacteria within the skin and even hormonal imbalances. Patients with unique food sensitivities may also suffer from acne breakouts.
Our preferred methods for treated acne breakouts include:
Blu-U: This treatment works to eliminate bacteria that are on the surface of the skin on any area of the body prone to acne. BLU-U uses a safe cool laser technology that has anti-microbial properties. BLU-U is safe for all skin types and there is no down time needed.
PDT (Photo Dynamic Therapy, including Levulan): The treatment combines the use of ALA, Amino-Levulinic Acid, and BLU-U light to shrink oil producing glands and reduce acne. PDT is also extremely effective in treating broken capillaries and acne associated with Rosacea and targeting actinic keratosis and sun damage. Treatment requires 2-3 days of recovery time.
Hormone Therapy: Hormonal issues can cause acne to continue at any stage of life.  One of our specialties is bringing hormones into proper balance using natural, Bioidentical hormones.
Food sensitivity testing.
If you suffer from acne, either as an adult or a teenager – it is critical to identify the underlying cause so that a treatment plan can be created. Contact Dr. Shel today to start the process of eliminating your acne once and for all.