Cosmetic lip injections have become popular and are, in fact, one of the most requested non-surgical cosmetic procedures. You have probably read about lip injections and if you have thin lips, you may have even considered this procedure.
Plumper, fuller lips are achievable in our office using Juvederm® injectable gels…known as the "next generation" of facial fillers. Additionally, Juvederm® is effective in minimizing fine "smile lines" and deeper "parentheses" lines (nasolabial folds) around the nose and the sides of the mouth.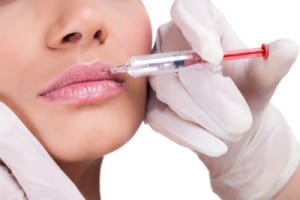 Here's how Juvederm® works: Juvederm® is made with hyaluronic acid, a substance which naturally occurs in the body. This makes it easily accepted and unlikely to cause an adverse reaction. It is FDA approved and is safe and effective.
The lip enhancement procedure is done using a nerve blocker anesthetic, similar to a dental anesthetic, which numbs the lips and ensures that you are relaxed and comfortable before the actual procedure begins. This gentle procedure takes about 15 minutes; the results typically last about six to nine months.
Following a Juvederm® procedure, you can return to your normal activities and work schedule immediately. There may be some mild bruising that may last a few days but can be easily camouflaged with make-up.
You would be an ideal Juvederm® candidate if you want to minimize the appearance of fine lines around your mouth, restore a more youthful appearance and enhance the appearance and fullness of your lips.
Remember: It is important to discuss your "plumping" expectations with your injector. She will strive to ensure that you achieve the natural look you want. An excellent rule of thumb is "less is more." Maintaining the normal anatomy of your lips with subtle injections can result in very naturally appearing, plumper lips.
If you would like to know more, call to schedule a free consultation at (281) 313-7435 or fill out an online request form.